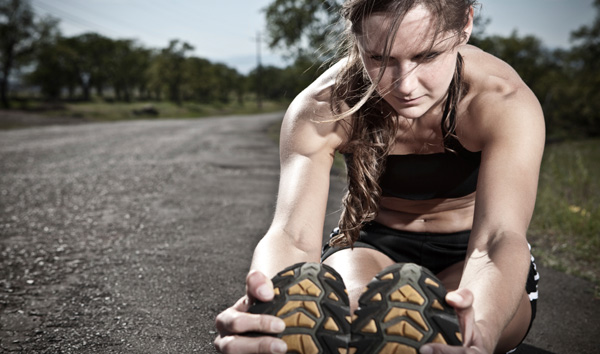 This just in: we all struggle with things in our lives (no really!), but how seriously do we resist temptation when it whispers in our ears? Do we openly speak out against it in Jesus' name, or do we "smell the muffin" before turning it away? What about the times when those "innocent" sniffs cause us to take the bait? Jesus said it is better to gouge out our eye if one of them causes us to sin, but do we really run the marathon of resisting temptation as fiercely and consistently as he instructed us to?
Nobody Can Say They Didn't Know What Was Going To Be On The Test!
Jesus and Paul were very clear we should fight sin with all of our might, and that the standard for what is considered sin can be something as small as a thought, not just actions–this means we have to guard our every thought, not just the things we do or say
And it is so important to keep in mind that the battle against sin is a life-long marathon, not just an occasional sprint!
Matthew 5:27-30
You have heard that it was said, 'Do not commit adultery.' But I tell you that anyone who looks at a woman lustfully has already committed adultery with her in his heart. If your right eye causes you to sin, gouge it out and throw it away. It is better for you to lose one part of your body than for your whole body to be thrown into hell. And if your right hand causes you to sin, cut it off and throw it away. It is better for you to lose one part of your body than for your whole body to go into hell
Matthew 12:36
But I tell you that men will have to give account on the day of judgment for every careless word they have spoken
Matthew 10:28
Do not be afraid of those who kill the body but cannot kill the soul. Rather, be afraid of the One who can destroy both soul and body in hell
2 Corinthians 10:5
We demolish arguments and every pretension that sets itself up against the knowledge of God, and we take captive every thought to make it obedient to Christ
1 Corinthians 9:24
Do you not know that in a race all the runners run, but only one gets the prize? Run in such a way as to get the prize
IMPORTANT: We should not literally cut off a limb or poke out an eye, Jesus was saying we should consider any sacrifice made in this life secondary to the reward we are working towards in heaven, and if we are not in control of ourselves in a particular area, we need to do whatever it takes to overcome it!
So if we all know sin is so bad and wrong, why do we so often find ourselves on the business end of it?
The Journey To Sin Is Made One Step At A Time
Despite how powerless we feel in the face of some temptations, we are always in control of whether or not we chase after something we are being tempted with, and God never allows us to be tempted beyond what we can bear–so there is always the ability to turn away from whatever it is we feel weak against, no matter how enticing it may seem in the moment
James 1:13-15
When tempted, no one should say, "God is tempting me." For God cannot be tempted by evil, nor does he tempt anyone; but each one is tempted when, by his own evil desire, he is dragged away and enticed. Then, after desire has conceived, it gives birth to sin; and sin, when it is full-grown, gives birth to death
1 Corinthians 10:13
No temptation has seized you except what is common to man. And God is faithful; he will not let you be tempted beyond what you can bear. But when you are tempted, he will also provide a way out so that you can stand up under it
This means that when we stumble, we choose to, but the reality is, satan has no power over us other than being able to suggest thoughts or ideas, or tempt us through the influence of others–we need to humor those suggestions in order for them to have any power, otherwise they are no more powerful than gust of air
But, what if we "like" gusts of air?
*cough*
"Oh, God Is Working With Me On That"
I am sure none of us had, or currently have, a battle with a particular sin over a long period of time that we just couldn't seem to overcome
Nah, doesn't happen, right?
It is an interesting phenomenon that we, as Christians who have the very power of God on our side to overcome sin, willingly choose to hold on to sin in some areas of our lives rather than let it go completely
But why is this?
The reason, ultimately, is that we choose to not let go, but this is only because we don't fear, respect or love God in a way that would cause us to fight against sin as if our lives and salvation depended on it–it is as if we have no sense of consequences either to ourselves, God's own feelings or our relationship with God himself
Sadly, I believe this is probably one of the biggest lies in Christianity today: that we do not need to fear God because Jesus paid for our sins and therefore makes forgiveness available to all no matter what we do in life
Let us be clear on this point though, it is true that Jesus paid for our sins, and is merciful to forgive when we truly turn away from something, but only when we walk away from it and make every effort to stop, not just say we are sorry and keep on recklessly doing it over and over again: we are commanded, not asked, to be holy just as God is holy
John 14:21
Whoever has my commands and obeys them, he is the one who loves me. He who loves me will be loved by my Father, and I too will love him and show myself to him
John 15:9-10
As the Father has loved me, so have I loved you. Now remain in my love. If you obey my commands, you will remain in my love, just as I have obeyed my Father's commands and remain in his love
1 John 2:3-6
We know that we have come to know him if we obey his commands. The man who says, "I know him," but does not do what he commands is a liar, and the truth is not in him. But if anyone obeys his word, God's love is truly made complete in him. This is how we know we are in him: Whoever claims to live in him must walk as Jesus did
Luke 6:46
Why do you call me, 'Lord, Lord,' and do not do what I say?
Leviticus 19:2
Be holy because I, the LORD your God, am holy
1 Peter 1:16
Be holy, because I am holy
Hebrews 10:26-27
If we deliberately keep on sinning after we have received the knowledge of the truth, no sacrifice for sins is left, but only a fearful expectation of judgment and of raging fire that will consume the enemies of God
James 4:4
You adulterous people, don't you know that friendship with the world is hatred toward God? Anyone who chooses to be a friend of the world becomes an enemy of God
The idea that God gets upset when we continuously sin is a tough one, as we want to believe that God will forgive us in perpetuity no matter what, which I do believe is true if we stumble but sincerely push on towards righteousness as nobody I have ever heard of instantly stopped sinning the moment they became a Christian!
But our intentions have to be based on determination and a desire to know and love God, we cannot approach God's grace as if it is just something to wipe away our guilty consciences when we choose to let temptation get the better of us–we have to fight against temptation as if our lives depended on it because we do not want to damage our relationship with God, which is exactly what happens when we choose sin over his righteousness and wisdom, the things Jesus died to give us!
Philippians 2:12
Therefore, my dear friends, as you have always obeyed—not only in my presence, but now much more in my absence—continue to work out your salvation with fear and trembling
Hebrews 10:22-24
…let us draw near to God with a sincere heart in full assurance of faith, having our hearts sprinkled to cleanse us from a guilty conscience and having our bodies washed with pure water. Let us hold unswervingly to the hope we profess, for he who promised is faithful. And let us consider how we may spur one another on toward love and good deeds
Are We The Kind Of People Satan Flees From Or Do We Make Empty Apologies And Keep On Sinning?
We have all been there, those moments when we cry out to God asking for his forgiveness over something we did
The emotions run high, we are filled with grief, and yet, somehow, sometimes, we find ourselves doing it all over again, landing back on our knees crying out, with the full expectation we will be forgiven, or so filled with shame and the enemy's lies that we may never believe we can be forgiven
Maybe these aren't empty "I will never do that again" promises when we say them, but we make them empty when we choose to sin in the same way later on
How would we feel if our friends continuously hurt us but apologized every step of the way, it would really damage the relationships wouldn't it?
In the face of temptation, keeping those promises is not easy, but we have to fight until it hurts us sometimes, as we have to be conscious of the fact that we are turning away from something that we are actually tempted by our own desire to do
David walked very closely with God, and also committed a great deal of sins in his life, and his Psalm that says who gets to go to heaven really made me think:
Psalm 15:1-4
LORD, who may dwell in your sanctuary? Who may live on your holy hill?
He whose walk is blameless and who does what is righteous, who speaks the truth from his heart and has no slander on his tongue, who does his neighbor no wrong and casts no slur on his fellowman, who despises a vile man but honors those who fear the LORD, who keeps his oath even when it hurts
The last line "who keeps his oath even when it hurts" is something that we should apply to our lives when it comes to sin, because when we cry out to God and beg for mercy, we should not even see it as an option that we would ever need to ask for it again–keeping our oath to turn away from something, no matter how inviting, can really hurt!
Think about it like this, when a marathon runner is in a race, they are on an epic journey where their body screams to quit almost every step of the way
Their lungs burn, their legs ache, and the pain can sometimes be incredible, but the only thing that makes their body stop, is their mind telling it to
Sound familiar, like our choice to sin or not sin regardless of how strong the temptation?
Well, then consider that how hard we run the marathon against sin determines what kind of reward we will get in heaven!
Revelation 22:12
Behold, I am coming soon! My reward is with me, and I will give to everyone according to what he has done
We may need to stop and take a breather once in a while, but the race doesn't stop for us, so we need to push as hard as we can
Jesus told us we would give account for our lives, down to our careless words, which is pretty scary when you think about it, and the author of Hebrews openly states that we have no idea what it means to resist sin to the point of shedding our own blood like Jesus did for us
Matthew 12:36
But I tell you that men will have to give account on the day of judgment for every careless word they have spoken
Hebrews 12:3-4
Consider him who endured such opposition from sinful men, so that you will not grow weary and lose heart. In your struggle against sin, you have not yet resisted to the point of shedding your blood
So in our marathon, life-long battle against sin, and on the journey to know God with greater intimacy, we must remember that God's grace is to be valued above our own lives, and we need to resist temptation to the point where it causes satan to flee and puts a smile on God's face–and remember, our ability to overcome sin also depends on our choices, not just God's grace!
James 4:7
Submit yourselves, then, to God. Resist the devil, and he will flee from you
Revelation 2:7
He who has an ear, let him hear what the Spirit says to the churches. To him who overcomes, I will give the right to eat from the tree of life, which is in the paradise of God
Revelation 3:21
To him who overcomes, I will give the right to sit with me on my throne, just as I overcame and sat down with my Father on his throne
During the inevitable times when darkness threatens and comes at you, speak out loud in the name of Jesus that those things have no power over you, they are not your thoughts, and those things have no place even near you as you dwell at the foot of God's throne!
Isaiah 42:16
I will lead the blind by ways they have not known, along unfamiliar paths I will guide them; I will turn the darkness into light before them and make the rough places smooth. These are the things I will do; I will not forsake them
1 Thessalonians 5:5
You are all sons of the light and sons of the day. We do not belong to the night or to the darkness
1 John 1:5
This is the message we have heard from him and declare to you: God is light; in him there is no darkness at all
Facebook Comments
comments