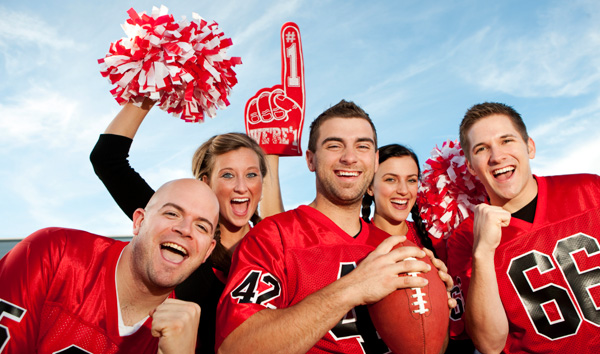 Loud colors and outrageous uniforms aside, cheerleaders are energetic, loud, highly visible, and even do acrobatics, but they also have very little to do with the outcome of actual games. A morale boost is nice, but if one of the players got hurt, a cheerleader could not fill in, and their cheering is no replacement for the months/years of conditioning the individual athletes have undergone. Christian cheerleaders abound everywhere, singing loudly on Sundays and such, but they lack the training and knowledge of the game to make any real difference–so how do we avoid being one?
Everyone Loves Heroes, But They Do Not Always Realize They Can Be One
Humanity loves heroes and villains, as they tend to represent both the best and worst of mankind in ways that are exaggerated and easy to understand
Throughout all history, and across every culture on earth, mankind enjoys immortalizing people they aspire to be, those they admire, and even those they are afraid of
If we look in the Bible there is no shortage of heroes or villains, ranging from Abraham, David, Esther, Paul, Jesus, Enoch, Elijah, the Apostles, etc… to Herod, Jezebel, Cain, Judas, and so on
To focus on the heroes, these people did amazing things like lead Israel out of Egypt, brought Christianity to the Gentiles, got taken up into heaven without ever knowing death, called fire down from heaven to consume the enemies of God, and other mind boggling things–who wouldn't want to live in such a way as to bring glory to God like that?
Even though, for better or worse, all of the people above lived extraordinary lives, most of them started off as ordinary people just like us!
Often From Humble Beginnings, Heroes Go On To Do Amazing Things
Not everyone in the Bible who was a great person started off rich, powerful or blessed in any way that would have given them an advantage
Take Jesus for example, Isaiah said that he was not handsome, and had nothing to make him desirable in the eyes of the world, it says he was even despised to the point where people hid their faces from him because they regarded him so poorly–not exactly the model of "perfection" we see in typical Jesus paintings is it?
Isaiah 53:2-3
He grew up before him like a tender shoot, and like a root out of dry ground. He had no beauty or majesty to attract us to him, nothing in his appearance that we should desire him. He was despised and rejected by men, a man of sorrows, and familiar with suffering. Like one from whom men hide their faces he was despised, and we esteemed him not
Also, take David, who would go on to be the king of Israel and lead them into one of the greatest eras of their nation, at one time he was a young shepherd, charged with watching over his family's herds while his older brothers were fighting in the army
The day David killed Goliath, he had been sent to the battlefield on the super important mission of delivering food to his brothers (lol!), but wound up slaying Goliath, causing the Philistine army to flee in terror, and became one of King Saul's most trusted, and highest ranked servants shortly after
I doubt David woke up that morning thinking he would do any of those things
Well, maybe the food delivering part
Bravery Goes Before Greatness: Stepping Out Of Our Comfort Zone And Trusting In God Will Yield Amazing Results
Now, to be fair, David was not perfect, as the rest of his life can attest, but that day he showed tremendous bravery to stand before what everyone else considered certain death, with full confidence God would deliver Goliath into his hands–but he did it not for the sake of God's glory, not his own
1 Samuel 17:20-26
Early in the morning David left the flock with a shepherd, loaded up and set out, as Jesse had directed. He reached the camp as the army was going out to its battle positions, shouting the war cry. Israel and the Philistines were drawing up their lines facing each other. David left his things with the keeper of supplies, ran to the battle lines and greeted his brothers. As he was talking with them, Goliath, the Philistine champion from Gath, stepped out from his lines and shouted his usual defiance, and David heard it. When the Israelites saw the man, they all ran from him in great fear
Now the Israelites had been saying, "Do you see how this man keeps coming out? He comes out to defy Israel. The king will give great wealth to the man who kills him. He will also give him his daughter in marriage and will exempt his father's family from taxes in Israel"
David asked the men standing near him, "What will be done for the man who kills this Philistine and removes this disgrace from Israel? Who is this uncircumcised Philistine that he should defy the armies of the living God?"
1 Samuel 17:32-33
David said to Saul, "Let no one lose heart on account of this Philistine; your servant will go and fight him"
Saul replied, "You are not able to go out against this Philistine and fight him; you are only a boy, and he has been a fighting man from his youth"
But David said to Saul, "Your servant has been keeping his father's sheep. When a lion or a bear came and carried off a sheep from the flock, I went after it, struck it and rescued the sheep from its mouth. When it turned on me, I seized it by its hair, struck it and killed it. Your servant has killed both the lion and the bear; this uncircumcised Philistine will be like one of them, because he has defied the armies of the living God. The LORD who delivered me from the paw of the lion and the paw of the bear will deliver me from the hand of this Philistine"
Saul said to David, "Go, and the LORD be with you"
Not only did David tell Saul that he was going to kill Goliath, but he also talked smack on God's behalf, declaring the victory before the fight even began; awesome!
1 Samuel 17:45-47
David said to the Philistine, "You come against me with sword and spear and javelin, but I come against you in the name of the LORD Almighty, the God of the armies of Israel, whom you have defied. This day the LORD will hand you over to me, and I'll strike you down and cut off your head. Today I will give the carcasses of the Philistine army to the birds of the air and the beasts of the earth, and the whole world will know that there is a God in Israel. All those gathered here will know that it is not by sword or spear that the LORD saves; for the battle is the LORD's, and he will give all of you into our hands"
As we know, David put Goliath down, but it was not like he walked up to Goliath and watched him fall over dead, it says that he ran into battle, and with precision, used his sling to sink a stone into Goliath's forehead
I wonder what "boom, headshot" is in Hebrew?
2 Samuel 17:48-49
As the Philistine moved closer to attack him, David ran quickly toward the battle line to meet him. Reaching into his bag and taking out a stone, he slung it and struck the Philistine on the forehead. The stone sank into his forehead, and he fell facedown on the ground
Not only did David show indignation on God's behalf, he went out and ran into battle, not shrinking from it, using the gifts and training God had given him to slay Goliath
I am pretty sure that put a giant smile on God's face!
Use The Training God Has Given Us, As Even The Most Humble Things Can Make Us Stronger!
Sure, David could have sat there when he saw Goliath, and thought to himself "I am just a shepherd and cannot fight, though I believe God will give us the victory", but it was his outright bravery and desire for action that drew him into the conflict on a personal level–he did not want to sit idly by in fear while people mocked God!
Also, it is important to note that when David went into battle, he did not rely on a heavy sword or armor which he had no experience using, he relied on the training he had from tending the flocks of his family, which involved using his sling to fight off predatory animals that tried to carry off the sheep
Think about that for a moment, can you imagine going into battle against an eight foot tall giant who is covered in armor that had been training all of his life for that moment, armed only with a slingshot and some bravado?
It sounds crazy, but when we look at how David trusted God, it makes total sense!
When looking at David's battle with Goliath, we see that he was not satisfied to just cheer his brothers and the army of Israel on, he wanted to take part in the action, and got personally involved with the skills that he had
Look to your own life, and think of the things God has brought you through in both the hardship and blessing departments, making note of the things you learned during those experiences
Maybe you learned patience in enduring a difficult job or financial time, maybe you learned how to save money and let go of material desires because your family poured everything they had into medical bills, maybe your parents split up and it destroyed your world for a while, etc…
All of these experiences are the things that we can run into battle with, using the wisdom we gained, and with the intent of using them to help us empathize with others who are going through the same things
2 Corinthians 1:3-4
Praise be to the God and Father of our Lord Jesus Christ, the Father of compassion and the God of all comfort, who comforts us in all our troubles, so that we can comfort those in any trouble with the comfort we ourselves have received from God
For example, I have experienced issues with drugs, porn, broken families, financial destitution, greed, vanity, and so many other things, and as a result, I am able to speak openly with people who are going through similar issues as a way of giving them hope that God will help us overcome no matter how tall the obstacle
But how does this relate to David slaying Goliath and not being a cheerleader?
The enemies of God are not just people, they are also the servants of darkness who wage war against God, and they are the ones who mock him when we stumble, so we should be passionately willing to fight, and help others, as the insults of those who insult God fall on us!
Psalm 69:9
…for zeal for your house consumes me, and the insults of those who insult you fall on me
Being a cheerleader in the war for salvation is simply not enough, we need to gear up and hit the field, with every intention of playing to win–you have to want it!
Ephesians 6:10-18
Finally, be strong in the Lord and in his mighty power. Put on the full armor of God so that you can take your stand against the devil's schemes. For our struggle is not against flesh and blood, but against the rulers, against the authorities, against the powers of this dark world and against the spiritual forces of evil in the heavenly realms. Therefore put on the full armor of God, so that when the day of evil comes, you may be able to stand your ground, and after you have done everything, to stand. Stand firm then, with the belt of truth buckled around your waist, with the breastplate of righteousness in place, and with your feet fitted with the readiness that comes from the gospel of peace. In addition to all this, take up the shield of faith, with which you can extinguish all the flaming arrows of the evil one. Take the helmet of salvation and the sword of the Spirit, which is the word of God. And pray in the Spirit on all occasions with all kinds of prayers and requests. With this in mind, be alert and always keep on praying for all the saints
1 Corinthians 9:24
Do you not know that in a race all the runners run, but only one gets the prize? Run in such a way as to get the prize
Facebook Comments
comments