Maybe I am hopeless romantic, or maybe I am just too stubborn to let something I want slip away, but I do not agree with the idea that the intensity of love fades over time.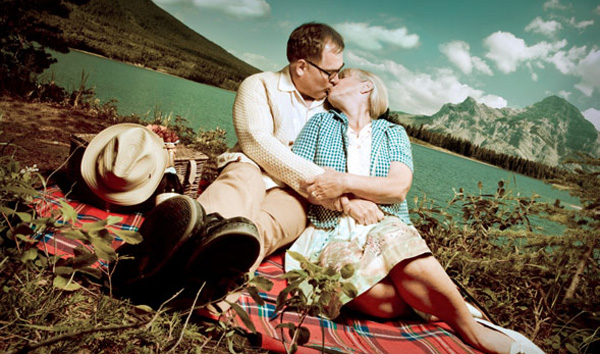 Maybe I am hopeless romantic, or maybe I am just too stubborn to let something I want slip away, but I do not agree with the idea that the intensity of love fades over time.
Anyone who has been in a relationship has probably experienced what I am talking about.
That window of time where a relationship is new, and one's partner is the most amazing person in the world. Every stolen glance, every kiss, every brushing of a finger tip, every conversation; every interaction feels so good and inspiring.
So many thoughts are focused on the emotional and physical intensity of the new frontier this new person represents, the intensity feels like an endless galaxy of happiness.
So what's the problem?
In every relationship others have told me about, along with every one of my own relationships, there comes a point where that magical, heart pounding intensity fades and makes way for something people tell me is called "love."
What, really?
So let me make sure I understand this correctly.
Finding the true love of one's life means that the initial spark, which coincidentally is the same spark that existed with others, fades away just like all the other emotionally intense sparks before them? Only this time when it fades something tolerable, but permanent and sort of boring is the result?
Um, no thanks!
Typically, when the initial spark of a new relationship wears off, there is often not enough of an emotional connection or deep intimate bond to hold people together. This sudden drop off in intensity then becomes what people everywhere have classified as a "normal" stage of a relationship.
Why is it considered okay that people feel less passionately about one another at any stage of a relationship?
God's love is not defined as having ebbs and flows, it says that he yearns for us intensely.
James 4:5
Or do you think Scripture says without reason that the spirit he caused to live in us [yearns] intensely?
To put this verse in context, it means that God does not want to have any equals in the relationship, He wants us to love Him with excitement, just like He loves us. Passion and dedication are the necessary components to keep any type of emotionally intense relationship healthy and flourishing.
So what are the most common things that cause people to become emotionally and physically cool after a while?
In my experience, this happens most when couples start taking each other for granted and don't make a point of staying emotionally close. Relationships aren't like the laws of physics, they change–sometimes suddenly, but mostly over time.
If human beings were incapable of maintaining a hunger for things over extended periods of time, then I could see that the wane of a relationship could be an acceptable evolution of a couple's life together.
But come on, people stay enthusiastic about their hobbies their entire lives because they continue to invest time and effort into them.
People can watch football, play golf, eat food, exercise, or do whatever they like for a lifetime. They wake up and get excited about the Super Bowl, a big tee time, a fishing trip, learning new technologies, etc… So why don't people wake up every morning enthusiastic about another day of interacting, and growing with their partner?
It's because people take each other for granted, and ultimately stop appreciating one another; hence the sense of boredom.
If someone played golf for six months and never got any better, would they keep playing? I doubt it.
If someone watched the same football game over and over would they be just as excited to watch it? I doubt it.
See where this going?
So why do people tolerate a relationship not getting any better? The only way to keep things fresh is by pursuing ourselves and our partners, and making sure we don't get weighed down by life's distractions.
When people don't get excited over their partner emotionally, intellectually or physically, I think this is the worst point of a relationship. This means both partners, or just one of them, is no longer participating in the relationship in a manner that will keep the intense pace going.
North American society has not trained people to be adept at emotional awareness, let alone emotional vulnerability. People are rarely able to articulate their own emotional desires, and are often poorly equipped to have an honest dialog about their feelings with either themselves or their partners.
Understanding, and exploring intimacy with a partner means so much more than just an intense, chemically intoxicating connection at the beginning of a relationship. It takes effort to keep this going, but I have found that it is totally possible as long as you are truly in love with your partner and keep the passion alive well past the "best before" date–just treat your partner like they are the most important person in your life, and constantly show them, not just tell them, how much you love them.
There!
One last thing, just remember that it's easy to chase every pretty face that passes by, not because there really is potential there, but because human beings tend to look for something "better" when they are not content. Physical attraction is only part of a healthy relationship, but without a long-lasting, deep rooted emotional bond no physical beauty could ever keep someone happy forever.
No matter how attractive someone seems at first, if there is no friendship and mutual desire for a deep relationship, the person will get just as annoying to be around as everyone else before them.
So don't get distracted emotionally or physically from your partner, make sure to respect the bond between you and stay focused on each other as if your love was a bubble that only the two of you exist in.
But above all, pick a good partner in the first place, and be brave enough to love them with total freedom and vulnerability once you find them!
Facebook Comments
comments