Even though the smell of pungent grease wafting out of the Lotteria (Vietnamese fast food chain) gave me a slight headache as I walked by, it still smelled good I normally can't stand fried food as just the odor of deep fried grease makes me cringe in horror, but today it actually made me think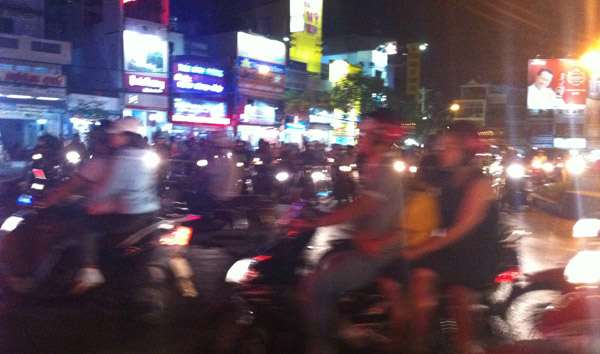 Even though the smell of pungent grease wafting out of the Lotteria (Vietnamese fast food chain) gave me a slight headache as I walked by, it still smelled good
I normally can't stand fried food as just the odor of deep fried grease makes me cringe in horror, but today it actually made me think
Encouragement From All Sides
Today I was reminded today how amazing it feels to help and watch people grow
I can't think of anything else in life that feels better than watching people become more intimate with God, especially because it brings me closer to him as well
You Call That A Fast…?
Jesus fasted for forty days and forty nights, which I can't even imagine
How does that compare with things like lent, where people give up a thing or two that they really enjoy for the sake of reminding themselves to be a better person
How does not playing XBox, buying clothes or drinking wine for a week make you a better person?
It doesn't!
Colossians 2:20-22
Since you died with Christ to the basic principles of this world, why, as though you still belonged to it, do you submit to its rules: "Do not handle! Do not taste! Do not touch!"? These are all destined to perish with use, because they are based on human commands and teachings
Pretty Please, I Will Be Your Best Friend…
How sincere is it to lay something down and then run right back to it?
That doesn't show a change of heart, it just shows that someone just has the willpower to temporarily deny themselves of something they like
It is like a kid being a spoiled brat all year long, but then being on their best behavior around Christmas because they want more presents
Their change of heart isn't sincere, but, most importantly, it shows they could stop misbehaving whenever they decide to–so why do they choose to misbehave at all?
You Can't Spell "Empathy" Without "Empathy"
In the example of the child afflicted with Seasonal Misbehavioritis, the child either has no conscience or their ability to be empathetic is underdeveloped
Without a clear understanding of how, or why, our behavior hurts others, ourselves or God, it is impossible to truly walk away from things that we do because we just don't see what damage we are doing
This is because in some things we are, despite our ages, immature
Nuh Uh!!!
No seriously, we can be immature and act like big babies sometimes, everyone does it without thinking
We get cranky when we are tired, lash out when we don't get something we wanted, complain when we don't get our way, etc…
These things don't always come to the surface, but when they do, it is important to recognize and acknowledge them so we can correct our behavior or ways of thinking
In my fast so far, I have been able to see that my personality swings back and forth quite a bit from being super nice to super less than nice
More prayer required as this needs to get dredged out, and I am thankful to see it in this high-stress environment so I can address it!
Facebook Comments
comments