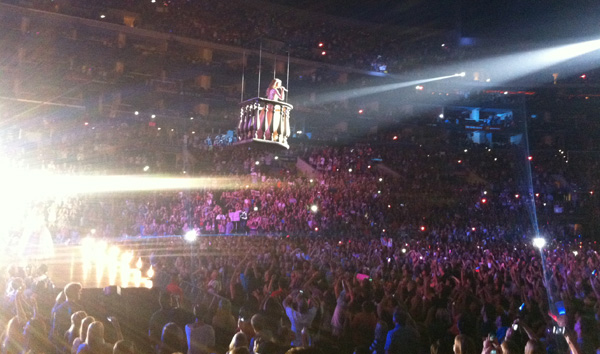 We saw Taylor Swift perform last night at the Staples Center in LA for a sold out, totally insane crowd
Her connection with fans is incredibly strong, and they go between singing her lyrics out loud or screaming at the top of their lungs how much they love her, and as I stood there, I thought about how amazing it would be if Christians reacted that way about God
Imagine going to a worship service like that!
If We Have Inherited Salvation, Why Aren't We Freaking Out About It!?
Last night was amazing as I had never seen anything like it, but as I watched a sea of people go completely crazy because Taylor looked in their direction, I thought about of how absolutely incredibly it would be to go to a concert or church service where people were genuinely enthusiastic like that
We are chosen, above all the earth, to inherit salvation–so why aren't we excited in a way that matches the magnitude of such a gift?
Psalm 95:1
Come, let us sing for joy to the LORD; let us shout aloud to the Rock of our salvation
Isaiah 12:3
With joy you will draw water from the wells of salvation
I mean seriously, can you just imagine your Sunday worship service being packed to the rafters with people so ecstatic to be in God's presence that they screamed and shouted uncontrollably!?
Pfff, I Only Dance At The Club
Okay seriously, I know people who will dance all night at a club in clothes that are totally revealing or get sloppy drunk and stumble home, but they won't lift their hands in worship or even clap during a worship service
I mean come on!
Church is the place where we should feel beyond free to worship God with all that we are, to the point where we would otherwise be socially mortified
If people aren't at church to celebrate God and learn, what are they there for, an extension to their social circle?
Bleh…
David was a king, appointed by God above other men, just as Christians we are appointed as royalty and high priests, and he danced before the Lord in his under wear (sort of!) in celebration of the blessings he had received–to the point of being embarrassed even in his "own" eyes
I guess we can follow in his foot steps, or at the very least, wake up with a big smile on our faces, and be so happy knowing God that we want to share him with others!
2 Samuel 6:12-23
Now King David was told, "The LORD has blessed the household of Obed-Edom and everything he has, because of the ark of God." So David went down and brought up the ark of God from the house of Obed-Edom to the City of David with rejoicing. When those who were carrying the ark of the LORD had taken six steps, he sacrificed a bull and a fattened calf. David, wearing a linen ephod, danced before the LORD with all his might, while he and the entire house of Israel brought up the ark of the LORD with shouts and the sound of trumpets.
As the ark of the LORD was entering the City of David, Michal daughter of Saul watched from a window. And when she saw King David leaping and dancing before the LORD, she despised him in her heart.
They brought the ark of the LORD and set it in its place inside the tent that David had pitched for it, and David sacrificed burnt offerings and fellowship offerings before the LORD. After he had finished sacrificing the burnt offerings and fellowship offerings, he blessed the people in the name of the LORD Almighty. Then he gave a loaf of bread, a cake of dates and a cake of raisins to each person in the whole crowd of Israelites, both men and women. And all the people went to their homes.
When David returned home to bless his household, Michal daughter of Saul came out to meet him and said, "How the king of Israel has distinguished himself today, disrobing in the sight of the slave girls of his servants as any vulgar fellow would!"
David said to Michal, "It was before the LORD, who chose me rather than your father or anyone from his house when he appointed me ruler over the LORD's people Israel—I will celebrate before the LORD. I will become even more undignified than this, and I will be humiliated in my own eyes. But by these slave girls you spoke of, I will be held in honor."
And Michal daughter of Saul had no children to the day of her death
Facebook Comments
comments