Singapore, here we don't come! Amy and I are headed to Singapore for the day as I have a meeting with MRM Singapore, which is a division of one of the world's largest advertising agencies.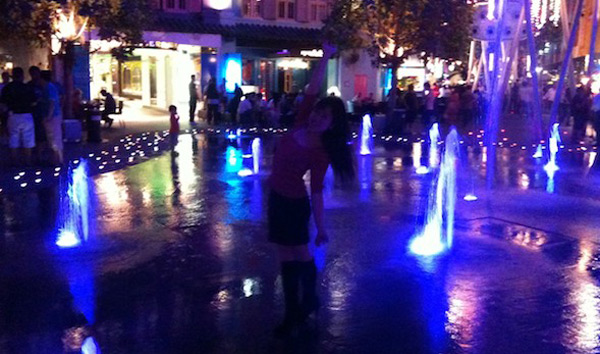 Singapore, here we don't come!
Amy and I are headed to Singapore for the day as I have a meeting with MRM Singapore, which is a division of one of the world's largest advertising agencies.
In lieu of our CEO, I am attending this meeting solo to see what can be won.
My mission is to show our work and demonstrate how smart we are, with the intent of convincing MRM that we can grow their revenue by collaborating with them on pitches.
The best part, is that I was up until 3am, woke up at 6:30am, and I have a raging fever.
And it isn't the kind of fever that more cowbell can cure either.
Though, more cowbell probably wouldn't hurt.
When Amy and I were hanging out working last night, we talked about how intense our relationship and attraction for one another is.
Our feelings for each other are rooted in friendship, amazing physical chemistry, and our mutual pursuit of personal betterment through God.
Because of this amazing connection, resisting the desire to pounce on each other is no small task!
One person I talked to about our chastity vow said:
"That is a form of kink"
Uh, no…
That answer did not reflect the spiritually minded intentions we have for our vow, but the comment does speak to me about what has been my greatest kink: getting married and having an insane sexual relationship.
What do I mean?
Throughout my life, I have always wanted to be with someone who was sweet, intelligent, and incredibly passionate.
When I was very young, I asked my mom if it was okay to lust after one's own wife; not a question an average twelve year old kid asks!
Despite my well-intentioned curiosity, this innocent question was a sign that I did not have a good foundation for understanding sexuality from a healthy point of view.
At the same time, in my head, which was trying to make sense of my body's feelings of unbridled desire, I didn't understand the concept of romance at all.
When my mom said that it was wrong to lust after anyone, even our spouse, I was stunned as I thought sex was okay once people were married.
However, as it turns out, getting married doesn't make it okay to be a monogamous sex addict who objectifies their partner while professing to love them.
*cough*
…who knew?
It took a long time before the wisdom of mom's advice really sank in and became personal, life-guiding wisdom though.
With the chastity vow that Amy and I took, I have learned a lot about what sexuality truly means to me, and have begun to shed my emotional baggage.
For the first time, I am feeling like a whole person.
Seriously though, who would have thought going cold turkey from the delights of the most attractive woman in the world would have taught me such things?
It is not that I hadn't made any progress before now, but it is only recently that I have looked at the final mile and started sprinting towards the finish line.
Before we spoke about it, God had put chastity on both of our hearts, as it was something we heard independently and were obedient about.
I see Amy in such a different light now, one that has allowed me to see the full measure of her as the beautiful, unique, God-given gift that she is.
So, tonight, our time in Singapore will probably involve a fully clothed wrestling match at 2am, before passing out like bricks amidst more conversations about God, work, getting married, conference calls, and other random humor bits.
Facebook Comments
comments