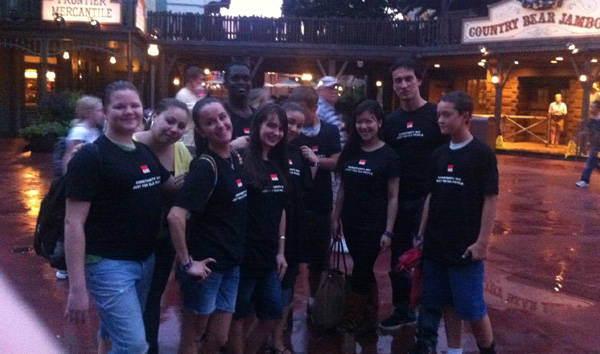 Wow, today was so much fun!
The shows were great, and it was also the same time that I have been to Disney World as well
Being around so many Christians was hard to believe at first, I wish every day could be like this!
Amy and I got to give out God and Stuff t-shirts to some new friends, and also did a quick interview on how they became Christians and what it meant to them–great stuff!
I did not bring enough t-shirts wow, and everyone commented on what is going to be God and Stuff's slogan:
Christianity: Not just for old people
A lot of young and old people commented on it, one lady said: "A lot of people suffer from O-L-D"
Funny!
The concerts themselves were a big mix, as we went back and forth between all the different stages to see the four bands playing at any one time
In particular though, I found it odd that the Newsboys and Group 1 Crew started their sets with non-Christian songs
I am not quite sure what they were thinking, but Group 1 Crew opened up with a ten second clip of a song by Afrojack that is all about a woman giving her body to someone and telling them to "take over control" in a very sexual context. They didn't include the lyrics, but to anyone who knew, that is probably not the type of song someone would want played at a Christian music festival. The Newsboys started their set off with a fairly innocuous song by Talo Cruz that talks about "going off" at a club but they actually sang the lyrics
My guess is that these bands either just liked the music or they were trying to play something "accessible" for non-Christians who were in attendance, but I have to ask what non-Christian creativity or expression has in an environment like Night of Joy at all as it is dedicated to expressing praise and worship to God
Jesus didn't tell people about the contemporary news of the day before he started preaching–not the right vibe!
Overall, I am very excited for tomorrow's festivities and cannot wait to do more interviews as I will put together my first video after I figure out how to use my video editing software!
Facebook Comments
comments